Black Raspberries Pack a Powerful Punch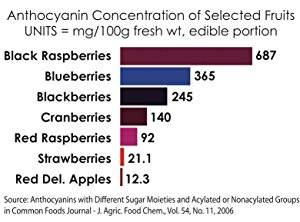 Black raspberries are an all-American superfruit full of antioxidant polyphenols and anthocyanins to help you stay healthy.* BerriHealth has been carefully crafting black raspberry products for over 7 years for researchers, clinical studies, and also directly for customers. Each bag of powder is made from about 500 whole black raspberries, grown by our partner family farms in Oregon, and has no added sugars, flavors, or
preservatives.
Our black raspberry powder is:
Great-tasting.
Low in sugar and high in fiber compared to other berries.
One of the most studied, nutrient-rich berries in the world.
A very concentrated source of flavonoids like anthocyanins and quercetin.
A source of other polyphenols like ellagic acid.
Vegan, NON-GMO, Gluten Free.
BerriHealth Means Authentic "Rubus Occidentalis" Black Raspberries.
We stand behind our black raspberries because we are involved in every step. This picture of black raspberries? We took it ourselves, on our partner farm, right before harvest. These same berries go into our black raspberry powder. With all the issues with supplements these days, you will always know where our berries come from, and that they are genuine black raspberries.
Our partner farm has been ecologically farming black raspberries for over 70 years, up on a plateau next to the beautiful Columbia Gorge here in Oregon. They work with local government sustainability programs to study everything from native Oregon bees to keeping healthy soil conditions.
Our freeze-dried black raspberries have been used in clinical trials at multiple top research universities here in the United States. Our berries are used because of their high quality and levels of beneficial nutrients, as well as our strict approach to quality control and product testing.
Because of this commitment to quality, our black raspberry powder is the best on the planet. You can see and taste the difference.